Commercial Tree Service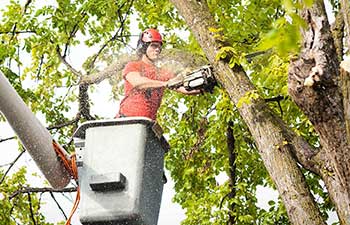 Did you know that the exterior of your business is a representation of your brand, as much as anything else?
Make sure that your trees are giving off the right first impression through Aaron's Tree Service. Trees are a vital part of any landscape due to their stability and natural beauty. Keep your trees looking their best through Aaron's Tree Service.
The curb appeal of your business plays a major role in bringing in customers. Having attractive landscaping around your business invites people to come inside and sets it apart from nearby competitors. When commercial property is well-maintained, it gives the impression of a well-maintained business. Don't be surprised if the rest of your neighborhood decides to step up their landscaping game after you call Aaron's Tree Service.
All of the services that we offer can be applied to the commercial world of landscaping. These services include tree removal, stump grinding, tree trimming and pruning, and storm damage tree removal. Your commercial property requires a lot of maintenance to keep it looking its best. You can rely on Aaron's Tree Service for high-quality tree care.
Having a problem with unwanted insects in your business? Nothing can turn away potential customers or clients faster than bugs crawling around your office. In addition to calling an exterminator, you should check to see if there are any branches scraping against your roof. If so, even after a trip from the exterminator, you won't have fixed the root of the problem.
Bugs can infiltrate your business's roof and siding via the branches that brush against them. In the bug world, these tree branches serve as excellent bridges to get inside your commercial buildings. Eliminate this problem by calling Aaron's Tree Service. Our tree trimming and pruning services can remove these insect pathways, safeguarding your property from infestation.
For managing the trees on your commercial properties, Aaron's Tree Service can be relied upon to make your property look its best. Be sure to call our Grand Rapids office at (616) 532-7100.