Tree Removal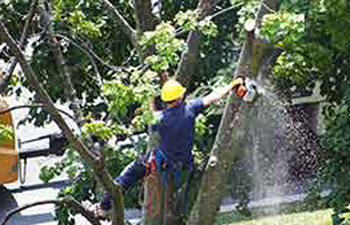 When faced with dead or dying trees, the best route for your home or business is tree removal.
Other reasons for tree removal may include tree roots interfering with your underground pipes or sewer lines, maintaining the aesthetic integrity of your yard, or eliminating shady areas. If you identify with any of these reasons, feel free to call us for your next tree removal. At Aaron's Tree Service, we understand our clients' need for safe and efficient tree removal.
While we are aware that some people will try to cut down trees by themselves, as tree care specialists, we advise strongly against that. People who try to cut down trees without the necessary training run the risk of getting seriously hurt or injured.
Let us take the burden of tree removal off your shoulders. Aaron's Tree Service is more than qualified to get rid of any unwanted trees on your property.
We recommend that our clients contact us to take care of any unstable trees before the winter months. The added stress of accumulated snow is often enough to make any dead or dying trees fall down, often onto homes and businesses. The best way to prevent damage to your property is through prevention.
When you contact Aaron's Tree Service, we will help you set up an appointment for tree removal. When our team arrives to the site, the first thing they will do is evaluate your tree to determine the safest way to take it down. Once plans have been made, our trained professionals will start making cuts. Any debris resulting from the tree removal will be taken care of by our staff so that you can enjoy your yard as soon as possible. We also provide stump grinding services to get rid of one of the natural consequences of tree removal.
For your next tree removal, feel free to contact us at (616) 532-7100.