FAQ's about Tree Removal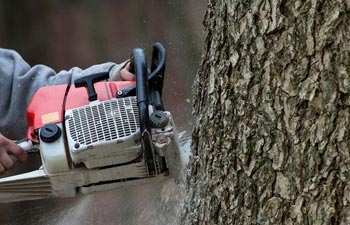 Tree removal can be a stressful process, but it doesn't have to be. At Aaron's Tree Service, we are aware that our clients may have many questions for us concerning the tree removal process.
As a result, we have created a list of the most commonly asked questions so that you can scroll through them when it's most convenient for you. If you discover that your question isn't listed here, feel free to call our Grand Rapids office.
Aaron's Tree Service goes the extra mile to make sure you are informed to make the best decisions for your property.
When is the Best Time to Cut Down my Tree?
If your tree is unstable and runs the risk of falling, call us right away. In non-emergency cases it is usually best to cut down trees when the leaves are gone. Leafless branches are lighter and less risky to remove. However, we can cut down trees regardless of the season.
What Happens to the Wood After the Tree is Removed?
At Aaron's Tree Service, we make sure that your tree doesn't go to waste. The bigger chunks of wood are used as firewood while everything else is shredded into woodchips.
Can I Request Firewood After the Tree is Removed?
Yes, you can request firewood from your removed tree. If this is your intention, please be sure to let our workers know before they cut down your tree. Also be aware that depending on the condition of the wood, collecting viable firewood may be difficult due to extensive insect activity or other factors. When storing bug-infested firewood, it is best to strip the bark so that bugs won't be protected.
We highly recommend that you only use firewood from hardwood trees, which include elm, maple, oak, and ash. The wood from pine trees creates high levels of creosote when burned, which can create conditions for chimney fires.
How Long Does Tree Removal Take?
Each tree is different; however, most trees are removed within a day.
How Much Does it Cost to Remove a Tree?
Tree removal usually costs anywhere from $150 to $1,500. Since each tree's situation is unique, we won't be able to provide a specific number for you until we inspect your tree.
Do You Remove the Stump After the Tree is Removed?
If you decide to use our stump grinding service, we will be happy to remove it along with your tree.
How Much Does it Cost to Grind a Stump?
Stump grinding usually costs from $75 to $1,000. Each stump is different and may be more difficult to remove depending on its condition.
How Can I Tell if my Tree is Dead or Dying?
Dead or dying trees usually show the following signs:
Leaning
Large fungus
Bare branches
Smooth trunk without bark
For more information, feel free to read our helpful blog post, Is My Tree Dead?
Can You Remove the Tree After it has Already Fallen?
Yes, we can remove fallen trees through our storm damage tree removal service.
Will There be a Mess Left Behind After Tree Removal?
After the tree removal there will be a dirt patch where your tree used to stand. If you decide to opt out of our stump grinding service, the stump will also remain in your yard. Other than that, our team always makes sure to clean up after themselves after every job.