Tree Trimming & Pruning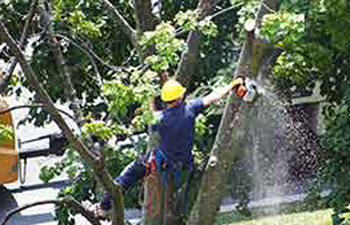 It is a good idea to trim and prune your trees 1-2 times a year. If you have a lot of trees on your property, it may be a good idea to contact Aaron's Tree Service.
We have more than 20 years of experience in dealing with persistent overhanging branches. Let our knowledge work to the benefit of you and your trees.
Branches that scrape against your roof are an invitation for opportunistic insects (such as ants) to infest your home or business. Eliminate the possibility of a costly bug invasion by using our tree trimming and pruning service.
Your trees are healthier when they are getting the care they need. Through Aaron's Tree Service, you can make sure that your trees are growing in ways that will promote their overall health and beauty. Well-maintained trees give your property added value. Protect your trees through Aaron's Tree Service.
Dead or dying limbs should be trimmed from your trees as soon as possible. When you notice dead branches on your tree, don't hesitate to call our Grand Rapids office. It is best to remove these branches so that we can help prevent insects from infesting your trees. Insects and other creatures responsible for tree decay are naturally attracted to damaged branches because they provide entry points into trees. Stop bugs in their tracks by making sure that these branches receive the proper care they need to flourish.
Enhance your tree's natural growth by making sure that its lower level branches get enough sunlight to thrive. When Aaron's Tree Service trims the upper branches of your tree, you can expect a tree structure that will not only encourage growth, but reduce the chance for disease due to increased air circulation.
The best times to call Aaron's Tree Service for trimming and pruning are in late winter and early spring. It is less traumatic to the tree if pruning is done during weather patterns that aren't too hot or cold.
Despite this, trees can still be pruned during the other months if the need arises. Dead or dying branches, for example, should be dealt with as soon as possible. For all your tree trimming and pruning needs, feel free to call Aaron's Tree Service at (616) 532-7100.