5 Questions to Ask Before Hiring a Tree Service Company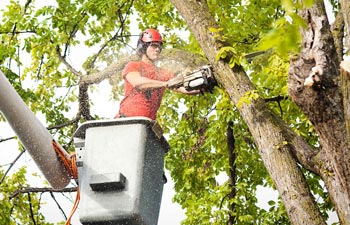 When managing the trees on your residential or commercial properties, it is always best to do your research before hiring a tree service company.
At Aaron's Tree Service we understand that our clients require information about us before making a decision. Get informed on what questions to ask during the hiring process by reading our helpful article. Our qualified tree experts are prepared to answer any questions you may have.
Can I Have a Copy of Your License & Insurance?
Some services, such as tree removal and storm tree removal, can be risky for even the most qualified tree experts. As a result, it is very important to verify that the tree service company in question is licensed for your state and insured and that these documents are current. Don't take a company's word for having these documents. If you come across a tree service company that is not forthcoming with this documentation, eliminate them as a possibility. Any company on the up-and-up will have no problem providing a copy of their license and insurance. You deserve to have a team of tree specialists that is qualified and professional.
Can I Have a List of References?
Any tree service company worth their salt should have a list of references for your convenience during the decision-making process. Don't be shy about following up on the list of clients they give you. Often, customers can be relied upon to give their honest opinions on a company they have used in the past. Unless the customers are family members of the company you are investigating, they should have no ulterior motive for lying to you. Your property is worth having the best tree experts take care of it, so make sure you check up on those references.
Can You Give Me an Accurate Estimate?
Tree services can be expensive, posing as a burden on your budget and a drain on your finances. As a result, you want to be sure that you are not getting ripped off by obtaining estimates from several companies for price comparison purposes. Tree service companies that demand money up-front before you have received any services should not be contacted further for your business. You should never have to pay for a service that hasn't happened yet.
This estimate should also include an accurate estimate of how long the job will take. Especially with larger projects, such as tree removal and storm damage tree removal, you need to be sure that the company is going to use their time in an efficient, yet safe, manner. Your time is valuable, so don't waste it hiring people who are not going to use their time productively.
Do You Practice "Topping"?
In the tree service industry, "topping" refers to when healthy top branches are indiscriminately removed to reduce the size of the tree. When entire treetops are removed, the tree develops several dominant trunks that ultimately make the tree more of a safety hazard to your home and family. Tree Service companies that regularly advertise and practice "topping" are a major red flag and should not be considered in your search.
During Pruning & Trimming, Do Your Workers Use Spikes to Climb Trees?
You want to hire a tree service company that is going to be respectful of your trees. Some companies disregard the health of your trees in favor of having their guys be able to climb faster. Spikes are equipment that attach to the boots of tree climbers so that they can gain better footing while trying to scale trees. Unfortunately, using spikes to climb up trees creates horrific puncture marks that leave your tree vulnerable to insects and disease. Protect your trees by hiring a tree service company that looks down on the use of spikes for trimming and pruning.
We understand that hiring a tree service company for the maintenance of your property is a big decision. At Aaron's Tree Service, we strive to answer any questions you may have to make sure that you are familiar with our practices. If you would like to have us handle your trees, feel free to call our Grand Rapids office. Your trees deserve the best.