Storm Damage Tree Removal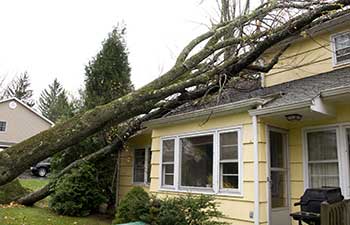 In the event of a storm, there is always the possibility of falling trees. In the worst case scenario, a tree may fall on your home or business, causing structural damage.
When the storm calms, you will need a reliable company to clean up the aftermath. You can trust Aaron's Tree Service to remove trees damaged by adverse weather conditions.
There are many factors that can cause a tree to become damaged or even fall. Trees can become unstable when the ground is forced to absorb above-average levels of precipitation. This, combined with high winds, can down trees. Additionally, the added weight of ice and snow during the winter months can place added stress on your trees, causing their branches to weaken and become damaged.
Aaron's Tree Service is a company dedicated to helping people manage the trees on their property. This becomes especially important after a storm, when trees can become a safety hazard to you and the people you care about.
Once a tree has fallen on your property it may be difficult, depending on the surrounding environment, to extract it. It is not uncommon for several nearby trees to fall during a storm, causing complications with removal. When this happens, the branches can become entangled with those of other trees. Other times, trees don't fall from the force of the storm, but are still left quite unstable.
Damaged trees may need to be removed from your property, just as much as fallen trees. If you are unsure, feel free to call Aaron's Tree Service. Our tree experts can help put your mind at ease in making the best decision for your home or business' property.